Rescued live recordings of Radio Progreso's music programming during the 40s and 50s in Havana, Cuba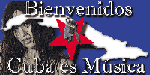 Timba's great-grandfathers are getting quite some attention these days, all around the world. Hopefully the Cuban artists of the 90s won't have to wait so long...
Alejandro Blanco-Uribe and Claudio Lovo, who have been working together in cultural anthropological projects such as "The Secret Recipes of the Yanomamis" as well as other ethnomusicologic works, now distribute the Cuba es Musica collection.
Music video Sabrosóna
In march '99 they have brought out a black and white, 'retro style' music video called Sabrosóna, as a tribute to the beauty, the rhythm and the tastefullness of Cuban women of all times. The makers of the video were inspired by a young girl who visited the website of Cuba es Musica. She said that, though she was still young, she admired the Cuban music of the 50s and she asked when they would make a music video in which she would like to appear to show her generation that this music is worth listening and dancing to.
CD-set Cuba es Musica
Cuba es Musica is a collection of 48 songs on 4 compact discs, featuring live radio show recordings by Cuba's musicians of the 40s and 50s. One time informal meetings of established artists, brought together by the mutual desire to attempt new versions of well known pieces and caught on tape.

The website of the collection contains samples in Real Audio of songs like Sabrosona, El Manisero, Calculadora, Corazón de Melón and the great Benny Moré singing Hoy Como Ayer.
The set is the brain-child of Alejandro Blanco-Uribe, who found these original recordings and restored them using the Cedar Audio System developed by the University of Cambridge to remove hissing, clicks, scratches, jumps and holes in tracks.
An earlier release earned gold records in Colombia and Venezuela. It features original recordings by Benny Moré, Barbarito Diez, la Orquesta Sensacion, Xiomara Alfaro, Fajardo y sus Estrellas and others. The box resembles a Cuban tobacco box and features scenes of daily life on the island, its customs and tradition.
Disc no. 1 consists of rhythm and high paced interpretations by bands, brass bands and ensembles such as:
Toda una vida by Osvaldo Farres. An unfamiliar version of the danzon undertaken by Barbarito Diez and accompanied by the Antonio Ma. Romeu orchestra, founded and headed by a composer and pianist who is considered to be the creator of the French horn.
Triana, a Spanish two-step by Loredo bearing the cha cha cha created by Enrique Jorrin and executed by many Cuban groups. Fernando Gonzalez, lead vocalist for one of the Creole jazz-bands of the 50s, the Ernesto Duarte Orchestra, sings the version presented. Composer and pianist Ernesto Duarte is the director.
The bolero Tu me acostumbraste by Frank Dominguez, sung by Rene Cabel, also known as "El Tenor de las Antillas". A compelling voice on Cuban radio at the time, accompanied by the jazz-band The Castro Brothers' Orchestra.
Disc no. 2 contains boleros. Amongst them:
Cenizas by Wello Rivas, interpreted by Xiomara Alfaro, a singer who established herself by performing in musical reviews at the Marti Theater and in Havana's principle cabarets Sanc Souci, Montmartre and Tropicana and who was a prominent figure on television and radio. Accompanied by the Castro Brothers' Orchestra.
Quiereme mucho, by Gonzalo Roig, in a creole version sung by Dominica Verges. Joined by Leon and Cordero, and accompanied by the Almendra danzon orchestra.
A live version of Hoy como ayer, a bolero by Pedro Vega, sung by the great Benny Moré who was given the nickname "barbaro del ritmo" by radio announcer Ibrahin Urbino on the RHC Cadena Azul broadcasting station.
Que te pedi by Fernando Mulens, here sung by Guanabacoense Nelo Sosa and accompanied by the Colonial Ensemble.
Nosotros by Pedro Junco, in a bolero-cha version executed by Fajardo and his Stars.
Disc no. 3 contains the songs which gave the biggest difficulties in recording them. The plates were in the worst possible condition, containing an infinite amount of scratches, jumps and noises, so loud that in a majority of the interpretations the distortions over shadowed the music itself. It contains pieces like:
El Manisero by Moisés Simons, here performed by Abelardo Barroso. A Habanero down to the bone who started integrating the Habanero sextet and later other kinds of typical sounds and orchestras. Here he's accompanied by the orchestra Sensacion.
The guaracha Burundanga by Arsenio Rodriguez, played by the Servando Diaz trio, a group founded in 1937 in Havana and also known as "los trovadores sonrientes".
In the piece Semilla de Maranon by Jésus Guerra, Dominica Verges unites with the Luisito Pla trio, founded in 1939 by this trovador and composer who joined The Almendra Orchestra to give us this montuno.
And Siboney, an instrumental, executed by the Almendra Orchestra who also perform an instrumental danzon version of the mambo Que rico el mambo by Damaso Pérez Prado.
Disc no. 4 contains a mix of diverse rhythms and pieces:
Maurice Ivan's Es mi hombre, in a cha cha cha time version sung by Rosita Fornes, Cuban television and theater diva for her interpretations of operettas and zarzuelas. Under the guidance of maestro Ernesto Lecuona she entered her professional career. In this version she is accompanied by The Castro Brothers' Orchestra.
Tengo un cuento, a guaracha with original lyrics which refers to "Pepe", famous Cuban figure responsible for Picaro literature. Here sung by montonero Pio Leyva.
Suena mi bajo, a guaracha by Lino Frias where the bass "sings' under the mastery of Celio Gonzalez and Sonora Matancera.